98 total views, 3 views today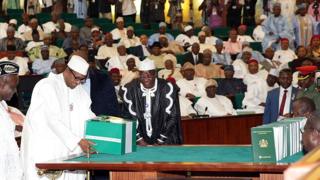 N'ụbọchị Tusde bụ Mee 15, Ụlọomeiwu nke Naịjirịa binyere aka n'akwụkwọ ga-achị mkpata na mmefụ nke akpọrọ Bọjeti 2018.
Bọjeti a ha binyere aka kwuru na Naịjirịa ga-emefu naira 9.120,334,988,225, bụ ọnụ ego jiri njere naira 500 karia ego dị na akwụkwọ onyeisiala Muhammadu Buhari nyere ya na mbụ. Onyeisiala nyere ha tari naira 8.612.
Na ihe gosiri na gọọmentị kwusiri ike na okwu ya na ọ ga-etinye anya n'ọrụ banyere mmepe obodo ka ngalaba na-ahu maka ọkụ latrik, ọrụ na ụlọ (bụ nke akpọrọ Minsitry of Power, Works and Housing na asụsụ Bekee) bụ ndị nwetakarị ego mmefu na Bọjetị ka ha wetera Njeri naira 682 na mmanye.
Na otu aka ahụ, ngalaba na-ahụ maka njem nwetara njeri naira 251 na mmanye.
Ndị ọzọ bụ ngalaba na-ahu maka nchekwa nwetara njeri 157 n'ọma; ngalaba na-ahụ maka ọrụ ugbo na mmepe ime oboso nwetara njeri 149 na mmanye; ngalaba na-ahụ maka mmiri nwetara njeri naira 147 n'ọma; ngalaba na-ahụ maka azụmahịa nwetara njeri naira 105 n'ọma.
Ndị nọ na okpuru bụ ngalaba na-ahụ maka akwụkwụọ na nke ahuike. Ngalaba akwụkwọ nwetara njeri naira 102 n'ọma ka Ahuike nwetara njeri naira 86 na ọma.
Ngala na-ahụ maka ihe banyere Naịja Delta nwetara njeri 58,082,611,977 ka nke na-ahụ maka gbụrụgbụru nwetara mpekatampe n'ime ha niile. Ha nwetara njeri naira 17 n'ọma.
Na ihe ọzọ gosiri na gọọmentị tinyere uche na ọrụ mmepe bu etụ ha sị nye ngalaba ha kpọrọ "special intervention programme" njeri naira 150, nye nke ha kpọrọ
"grants and donor funded projects" njeri naira 169 na ọma, na nke ha kpọrọ "zonal intervention projects" nwetara njere naira 100.
Ihe ndi ntoroọbịa
Ndi ntoroọbịa ga-erite oru na ọrụ nwereike ipụta n'ego etinyere na ngalaba na-ahu maka ọrụ. Oru a ha ga-erite bu site na ọru ha ga-enweta ma ọru ụzọ na ọrụ ihiwe ụlo bido n'ike.
Cheta na Pati na-achị bụ APC kwere nkwa na ha ga-ekepụta ọrụ nde atọ ma ha banye n'ọkwa mgbe ha na-achọ ka ebinyere ya aka n'afọ 2015.
Ka a na-akwado ntụlị aka 2019, gọọmentị Buhari ga-achọ ka ha mezuo nkwa ha kwere , nke ga-eme ka ha hu na ọrụ dị icheiche ha ji n'aka bụrụ ihe arụchara tupu ntụlị aka ebido.
Akụkọ ga-amasị gị: